Volume 1

Thou Shalt Love Thy Daily Life
Nagisa Hyper-Rhapsody

Volume 2

The Making of Here is Devilwood
The Phantom of Greenwood

Volume 3

Second Love...Always Be With You [act 1]
Second Love...Always Be With You [act 2]
---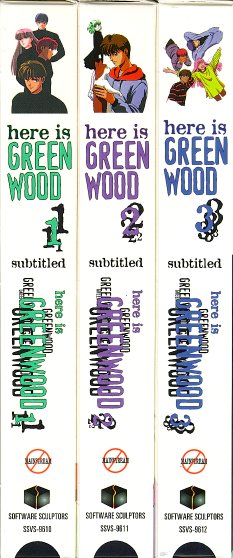 Type: series two episodes per tape
Genre: high school, romanic fantasy comedy
Dub/Sub: Subtitled
Length: ~30 minutes per episode
Copyright date: 1991-1993/1996
Animation quality: 7
Rating:

                     V--V
          G-----------PG----------PG13-----------R------NC17

Why: mt, al
General overall quality: 8
Distributed by:Software Sculptors

In Japan, picking a high school is a rather important decision which is usually full of stress. Everyone goes through it, including Kazuya Hasukawa. However, most people manage to deal with the pressure better then Kazuya, who gets an ulcer and ends up missing the first month of his freshmen highschool year. To make matters worse, Sumire, the girl that he liked very much, married his older brother, Kazuhiro.

Sigh.....

So, Kazuya finally arrives at Ryokuto Academy, an all boys school, and is put up in a dorm called Ryokurin Hall, also known as Greenwood.

Greenwood seems to attract odd and strange persons like a dog attracts fleas. Included are:
Shun Kisaragi - this ambiguous person looks like a girl in nearly all physical ways, but, is in fact a boy. He is Kazuya's room mate.

Shinobu Tezuka - this very smart and rather sneaky person is the student council president and lives next door. He has an older sister who is into S&M, and the like.

Mitsuru Ikeda - Shinobu's room mate and the dorm president. Any scratch on his face disappears within one minute and has a girl in every "port" [or equiv.]. Mitsuru and Shinobu have arranged for Kazuya to be the next dorm president.

Furusawa - a cycle nut. He literally lives with his motorcycle.

Misako - a young girl who was hit by a truck. She is a ghost and will forever be 16 years old. For a while, she haunted Mitsuru.
There is also an older, middle aged lady who watches over the 200 boys who live in Greenwood.

While many of the things the students of Greenwood participate in are more like what college students in the U.S. might do, this is still basically a high school teen "folly" series. Kazuya is basically a nice guy and is probably one of the more normal persons who live in Greenwood.

Of course, this is a rather amusing series that is fairly well made. There are also a number of "in" jokes in the series, including one cameo appearance by girl-type Ranma in the first episode and a short highschool version of one of the Rupan III movies.
---

eturn to main Anime page.

Previous review (The Guyver).

Next review (The Heroic Legend of Arislan).

oto the recent changes page.

isit the "pixselector" main index.

ip over to my home page.